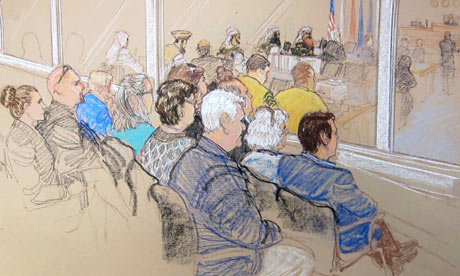 Lawyers for five men charged with plotting the Sept. 11 attacks argued on Monday that government officials illegally redacted testimony about treatment of Muslim prisoners made during a pre-trial hearing at Guantanamo Bay.
The dispute arose over blacked-out testimony by a female guard in October about whether women guards at the U.S. military base in Cuba should be barred for religious reasons from touching Muslim prisoners.
Lawyers for the accused say prisoners' objections to being touched must be respected on religious grounds while a U.S. military official in December said the protests were an attempt to stall proceedings in the slow-moving 9/11 death penalty trial.
The guard, who used the pseudonym Sergeant Jinx, spoke in open court in 2015 about contact between female guards and Guantanamo Bay detainees. She detailed how a guard team would handle prisoners.
Intelligence agencies later scrubbed Jinx's statements from an online transcript that had been available to the public on a government website...
http://www.reuters.com/article/us-usa-guantanamo-idUSKCN0VV2I1
...According to Nevin, the Eighth Amendment is implicated in one of two ways here, and both lead to the conclusion that the policy change may violate the detainees' rights.
Either the Eighth Amendment flatly prohibits the intentional imposition of punishment on pretrial detainees, or it flatly prohibits the unnecessary and wanton infliction of pain on detainees. Whether the court analyzes female guard touching as intentional punishment or unnecessary and wanton infliction of pain, Nevin argues, the new policy meets this standard and therefore violates the Eighth Amendment. First, the record bears out the inference that the change in policy was made with an intent to punish—female guard touching was never a problem in the past, and the changed policy occurred amidst "remarks of political leaders that these men should be allowed to rot in hell, that we should return to waterboarding." Second, Nevin argues, female guard touching is an unnecessary and wanton infliction of pain on these detainees (emphasis added).
To support this conclusion, Nevin explains that all five of these defendants have personal histories of sexualized torture that specifically involved extensive unwanted touching by women and forced nakedness, contrary to their religious beliefs. The torture programs they endured were specifically designed by psychologists to inflict pain based on the degradation of their religion. The forced touching by female guards revives the torture experience and generates intense physiological responses of pain. Nevin asks the court for the opportunity to conduct discovery into whether there is a valid penological purpose behind this policy change or whether the change was made to intentionally inflict punishment or pain on the defendants...
https://www.lawfareblog.com/222-session-transcript-touching-and-technology-woes